The article itself focuses on the miracle cure that is Ivermectin (and how it was discovered and widely demanded by March 2020) the people that lost their jobs or were censored for prescribing Ivermectin, and the proven efficacy of Ivermectin.
I have another take with these questions.
1. What jurisdiction does the Attorney General of New York have over the prescribing of medicines in other States
2. Why didn't other States Attorney General's issue a "cease and desist" (that is – Mind Your Own Business – instructions to the Attorney General of New York
3. How many lives were lost because the Attorney General of New York issued instructions to medical staff in other States on how to treat C19
4. Did the Attorney General of New York draft the FDA tweet "You are not a cow, you are not a horse. Seriously y'all, stop it" ad instruct the FDA to publish it – or maybe even hijack the FDA's twitter account?
5. Did other State Attorney Generals also issue instructions NOT to use Ivermectin or was it just Democratic Party AG's?
6. How many more letters were sent to other medics by the Attorney General of New York? How many were sent to pharmacies to ensure a ban on filling prescriptions?
7. How many people lost loved ones or who were made to suffer needlessly because of the actions of the Attorney General of New York and other POLITIVAL operatives?
First, this is the Attorney General of New York.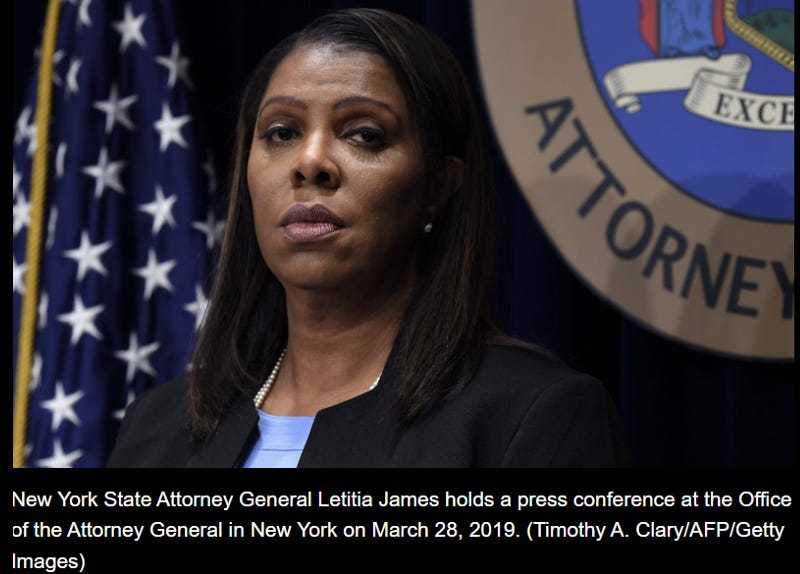 Look familiar? This is one of the pack of attack dogs and bitches of the Democratic Party that have pursued POTUS Trump relentlessly throughout his tenure as POTUS and beyond. She played the dominant role in forcing the immoral, unethical, indecent recent public release of Trumps tax returns. (Note the complete lack of public interest in the "big reveal"; not even the MSM is paying any attention. How much did this years long legal battle cost New Yorkers? 10 million bucks, 20 million?
Turn and turn about should be the new House of Representatives releasing the tax returns of all those that committed this heinous breach of privacy. Schiff, Pelosi, Schumer and, especially, James. She is exactly the person that projects their own crimes onto others.
Back to the article, here are the two quotes that sparked my "spidey senses" that indicate an abuse of power by the Attorney General of New York:
"Jennifer Wright, a nurse practitioner and clinical director who practices in Florida, but can prescribe across state lines, told The Epoch Times she received a letter from the Office of the Attorney General of New York ordering her not to prescribe ivermectin.
"Dr. Miguel Antonatos, a board-certified internal medicine physician who practices out of Illinois, but can prescribe to other states, told The Epoch Times via email that he, too, received a letter from the New York attorney general."